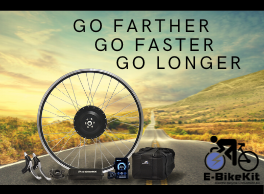 The word on the street is that avid bikers (and trikers) are popping into bike dealers to get their hands on conversion kits. Electric is all the rage right now, and for good reason.
Why are so many looking to purchase these kits?
Well, the two biggest advantages to converting the bike/trike you already own are familiarity and cost: converting a conventional bike to electric allows you to continue using the bike you already know and love, and 
buying a conversion kit is generally going to be a cheaper option than buying a complete electric bike
.
TRADITIONAL TRICYCLE CONVERSION SYSTEM
Further, if you're trying to reduce your carbon footprint, happen to live in a small space, or practicing minimalism, repurposing what you already have can be a win-win-win decision. So, if you love your current ride but want to add some juice for getting uphill or for powering your cargo bike when you're carrying a heavy load, you can, thanks to electric bike converter kits. 
Our universal  E-BikeKit Systems are the real deal. They're strong, reliable and incredibly sturdy. They're an excellent investment, allowing you to go a biker to go farther, faster and longer than pedaling alone but still provide great exercise. It's a solid performance. 
PERFORMANCE E-BIKEKIT™ LITHIUM - REAR WHEEL
Are you a current dealer that loves our E-Bike Kits? Are you a customer that has installed one on your bike or trike? We'd love to hear about your experience. Email us at support@ebikekit.com.
Have questions about our bicycle and tricycle kits? Click here for our in-depth FAQ section.
Are you looking to become an E-BikeKit Authorized Dealer? Fill out our New Dealer Application here.